SAVINGS CHALLENGE BRIEF ( 1ST NOVEMBER 2022 – 31ST OCTOBER 2023)
UIBFS And UBA In Conjunction With Bank Of Uganda, Member Banks, Financial Sector Regulatory Bodies And Financial Institutions And Partners Rolled Out A One Year Savings Challenge. The Theme Of The 2022 World Savings Day Will Be Upheld For The Duration Of The Savings Challenge; "Start Small, Grow Big; Be Green Smart".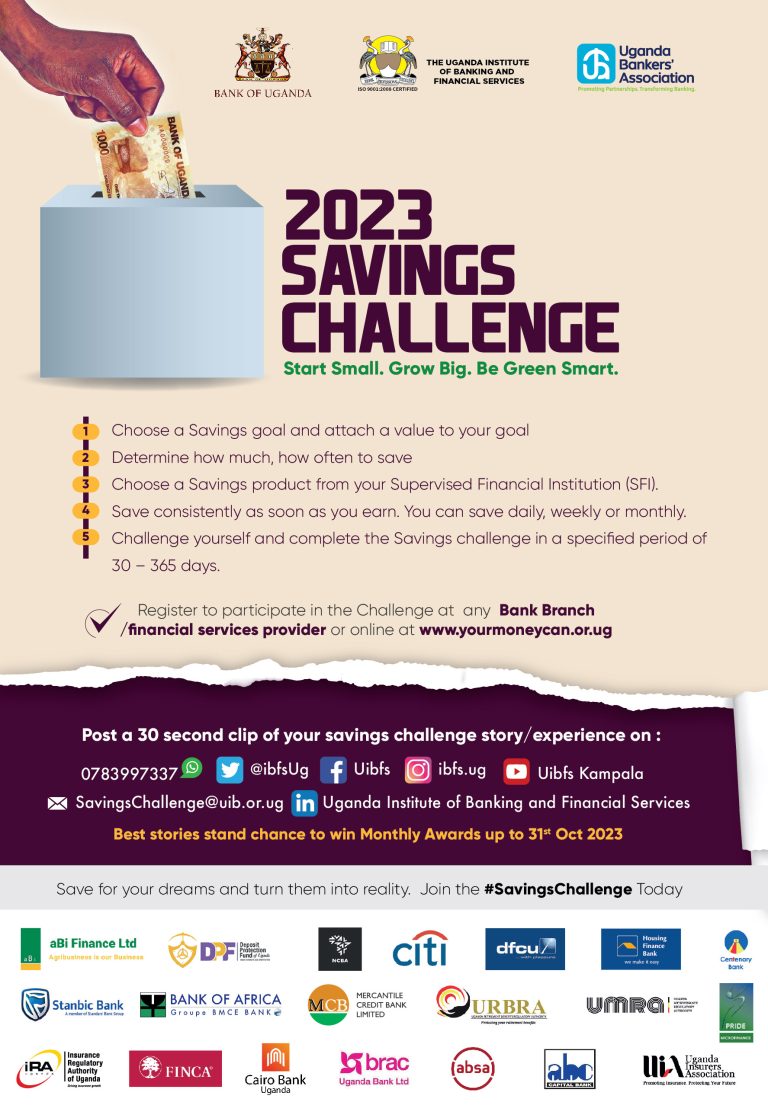 Purpose and objective of Savings Challenge:
This challenge will enable all interested persons across Uganda to start small, save consistently and grow their money so as to achieve specific goals.
Duration:
The savings challenge will run up to 31st October 2023.
What can one save for?
Emergencies, rent, school fees, TV, car, smart phone, furniture, vacations, or visiting holiday destinations, Debt repayment, Retirement, Investment, Special events such as Christmas, birthdays, anniversaries, etc.
The Savings Challenge Process:
1. Choose a Savings goal
2. Attach a value to your goal
3. Determine how much, how often to save
4. Choose a Savings product from your Supervised Financial Institution (SFI). Visit a supervised financial institution near you to understand the various savings products available.
5. All Participating institutions will be availed with Saving boxes, Piggy, Eggy, and Elly Banks for the Savings Challenge.
6. Save consistently as soon as you earn. You can save daily, weekly, or monthly.
7. Be patient, challenge yourself
8. Complete the Savings challenge in a specified period 30 – 365 days.
9. Monthly prizes will be given to the best story selected per month.
Where can one save?
1. Save with a regulated financial institutions e.g. Commercial Banks, Credit Institutions, MDIs, SACCOs, Insurance companies, retirement benefits schemes, and Investment companies among others; since they are safest for accumulated savings.
2. You can save on a savings account, your savings group, mobile money account, savings box or piggy bank. However, ensure that these savings are taken to regulated financial institutions from time to time once it accumulates.
3. You can also save in an insurance product (UIA/ IRA), Treasury bills (BoU), Unitrusts (CMA). Choose the best saving product that is convenient, affordable, accessible, with a good interest rate and safe.
4. You can choose any saving option that suits your needs.
Savings Challenge Registration
Savings challenge participants shall be encouraged to register to participate in the challenge through the following ways;
1. Visit your banks / Institutions branches and fill in registration form (see sample on page 3).
2. Visit UIBFS Website ( www. uibfs.or.ug) and yourmoneycan portal ( www. yourmoneycan.or.ug ) and fill in an online Savings challenge registration form
3. Through Through Email membership.uib.or.ug
Savings Challenge Awards:
· Participating savers can post a 30 second clip or a captioned image of their experience on WhatsApp, Facebook, You Tube, Twitter, Tik Tok and other social media platforms and hashtag; BOU, UIBFS, UBA, Your bank, and Savings Challenge
· A Panel of 3 to 5 members will review and select best stories and top savers that will win awards to be given out on a monthly basis, culminating with the World Savings Day Convention on 31st October 2023.

Post A 30 Second Clip Of Your Savings Challenge Experience On WhatsApp And Other Social Media Platforms And Best Stories Stand To Win Monthly Awards.
Join #SavingsChallenge Today